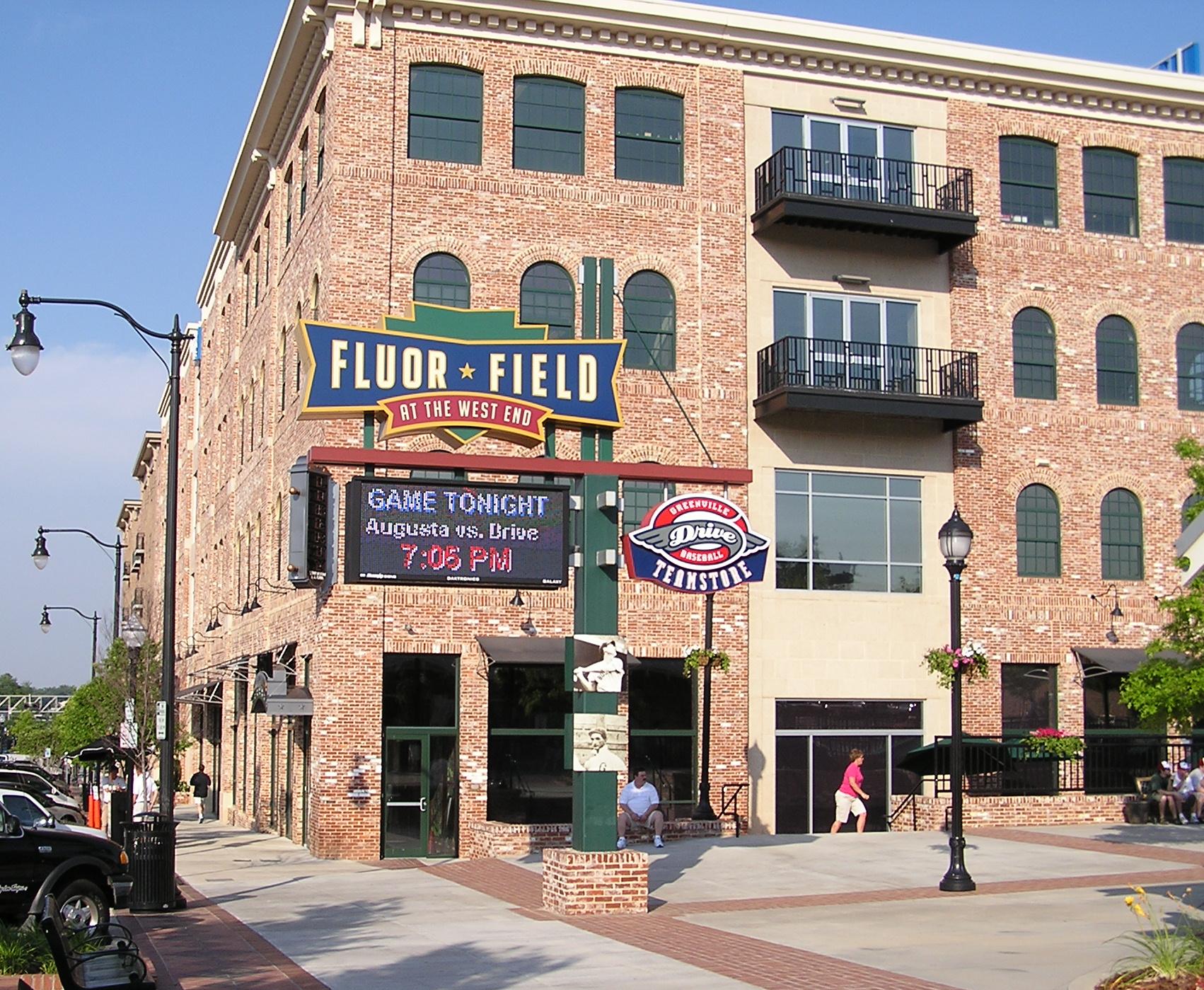 TEAM ::: GREENVILLE DRIVE
LOCATION ::: GREENVILLE, SOUTH CAROLINA
MY FIRST VISIT ::: JUNE 4, 2008
OPPONENT ::: AUGUSTA GREENJACKETS
LEVEL ::: SOUTH ATLANTIC LEAGUE 'A'
PREVIOUSLY KNOWN AS ::: WEST END FIELD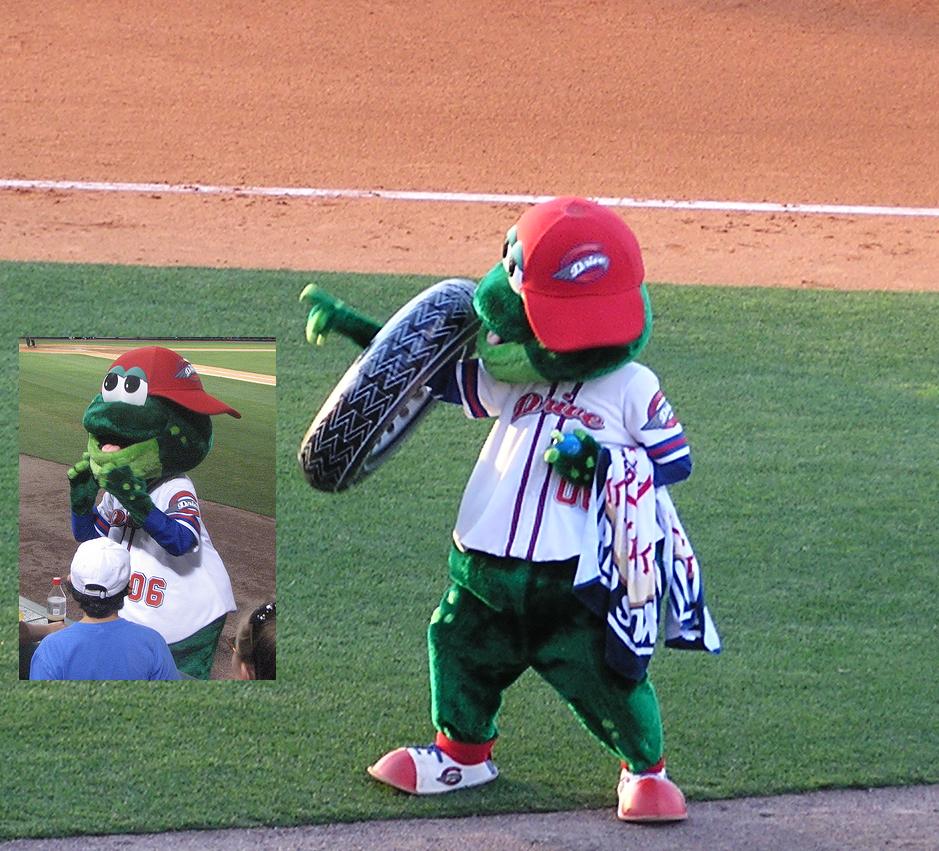 RATINGS
BALLFIELD ::: A
SCOREBOARD ::: B
FOOD ::: B
FACILITIES ::: B
MASCOT ::: B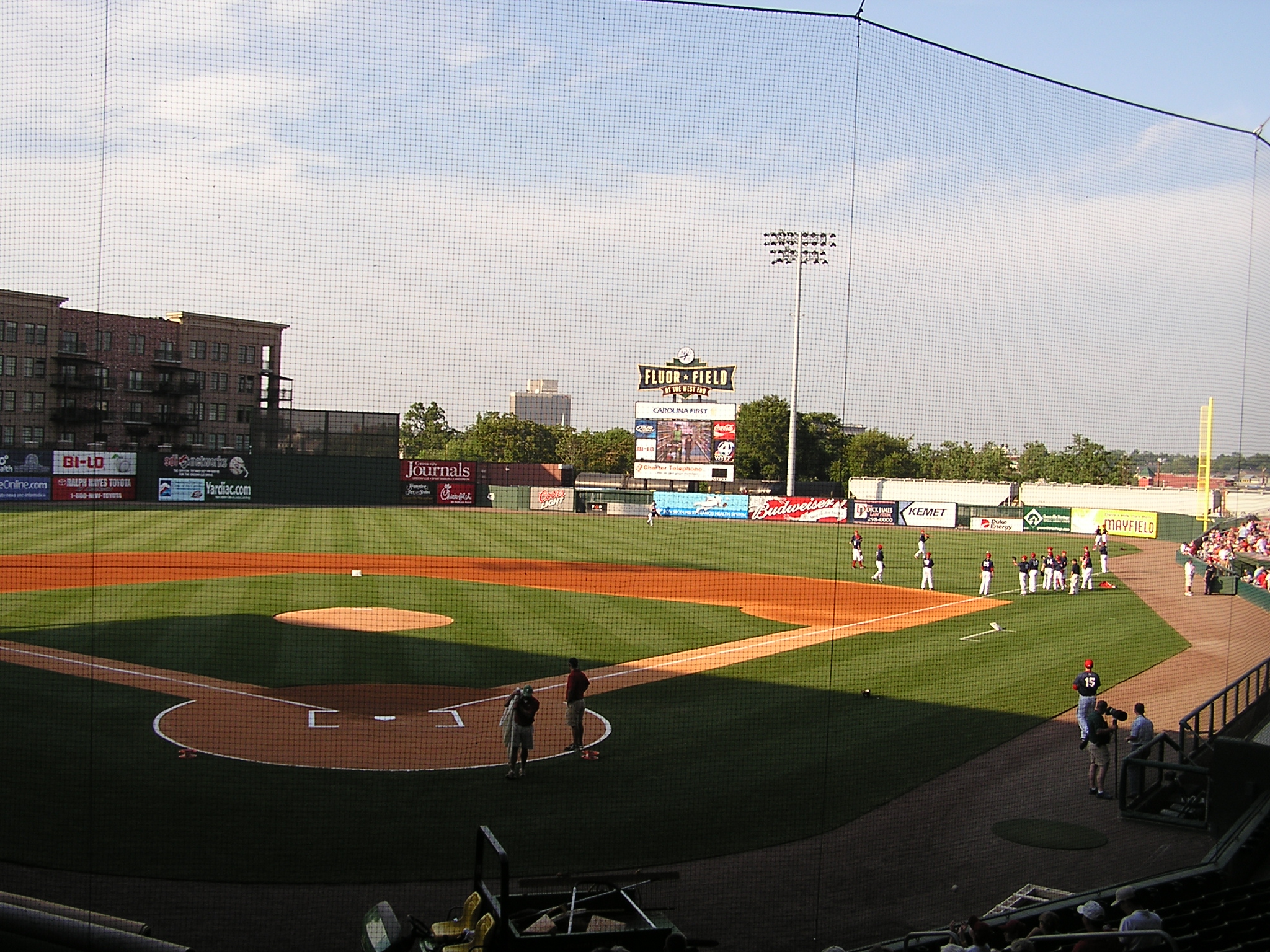 MY TAKE ON THE PARK
THE CITY OF GREENVILLE IS LOCATED IN UPSTATE SOUTH CAROLINA AND IS A REVIVED CITY WHICH OFFERS A NEW BALLPARK AND WHAT APPEARS TO BE A NEW CITY. THE CITY, WHICH LOOKS GREAT ALL IN LIGHT BRICK, THE BALLPARK BLENDS INTO THE CITY AND IF YOU CAN'T TELL FROM THE OUSIDE THERE WILL BE NO MISTAKING WHO THE
GREENVILLE TEAM IS AFFILIATED WITH ONCE INSIDE.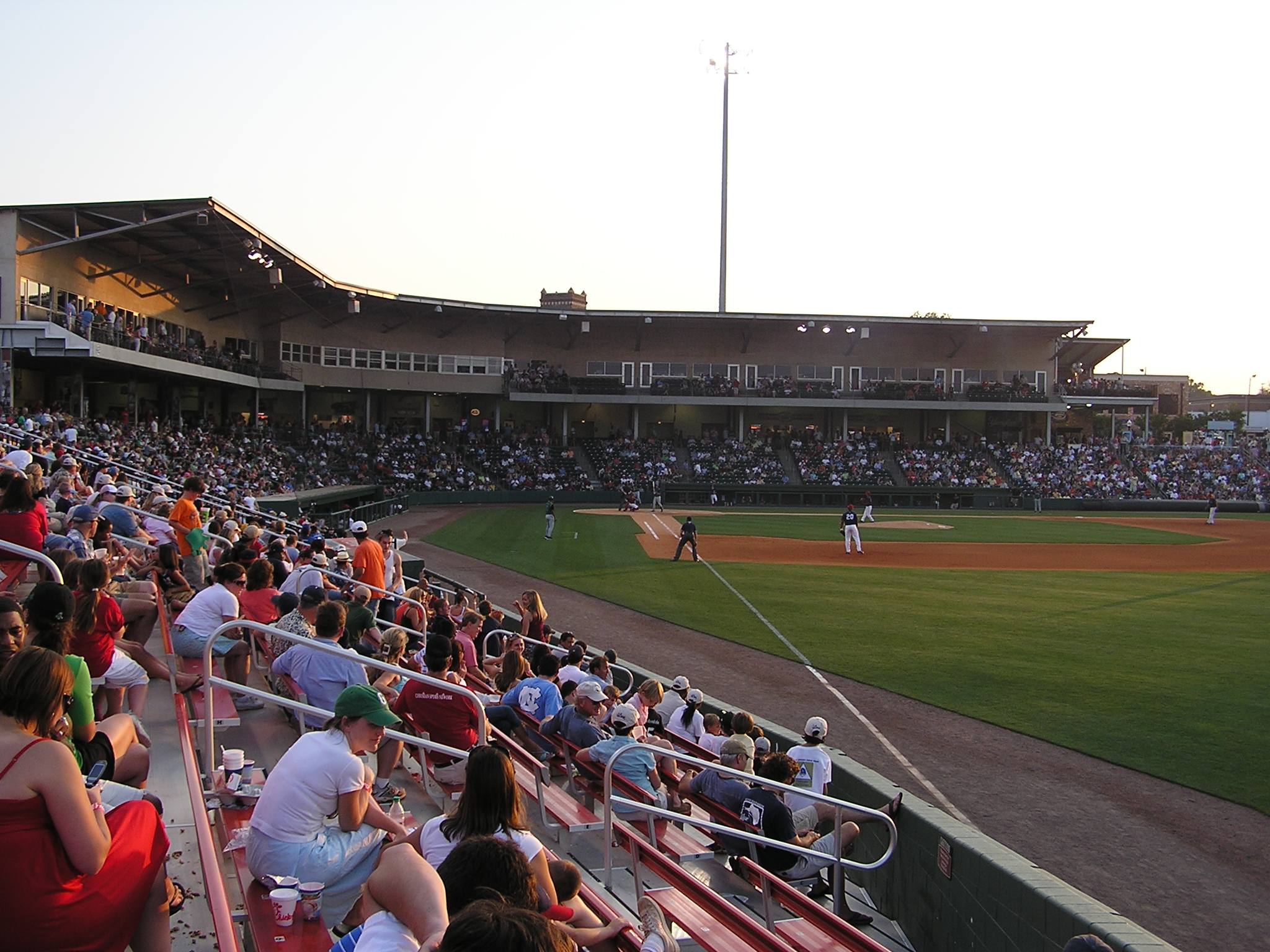 A TRUE STORY OF MINOR LEAGUE SUCCESS, THE GREENVILLE DRIVE ATTRACT LARGE CROWDS DAILY AND HAVE FIGURED OUT A WAY TO MAKE IT ALMOST LIKE GOING TO A GAME IN CLEVELAND. A GAME IN GREENVILLE IS NOT JUST A GAME, BUT AN EVENT.
THINGS START EARLY HERE WITH PEOPLE NOT GOING HOME AFTER WORK BUT IT LOOKS LIKE THE KIDS COME TO THE FOLKS AND THE FAMILIES GO TO THE GAME.
IF YOU ARE SHOWING UP FOR THE GAME THOUGH, $5 TO PARK IN ONE OF THE MANY LOTS AROUND THE PARK. I DIDN'T FEEL SO BAD BECAUSE I PARKED AT THE CHURCH LOT ACROSS THE STREET.
ONCE INSIDE AND A LOOK AT THE FIELD, YOU SEE IT. THE GREEN MONSTER HERE IN GREENVILLE. THE SAME SCOREBOARD, THE SAME GREEN 37' WALL ..
OK, THERE IS A "DRIVE" LOGO ON IT BUT ASIDE FROM ANOTHER ADVERTISEMENT IT IS THE SAME.
THERE ARE TWO SCOREBOARDS, THE ONE IN THE WALL AND A VIDEO BOARD IN RIGHT FIELD WHICH SADLY SEEMS TO GO TO WASTE. THERE ARE FEW VIDEOS SHOWN EXCEPT FOR THE COMMERCIALS BETWEEN INNINGS AND SPORADIC REPLAYS.
IT SEEMS THEY HAVE STATE OF THE ART ABILITY BUT FAIL TO USE IT.
PLENTY OF CONCESSION STANDS ALONG THE CONCOURSE OFFER STANDARD BALLPARK FARE AT STANDARD BALLPARK PRICES.
A TRIP TO GREENVILLE IS ONE YOU MAY DO FOR A GAME BUT MIGHT FIND
YOURSELF WANTING TO STAY AFTER IT. AND THEN MAYBE COMING BACK FOR ANOTHER VISIT.
THERE REALLY ARE QUITE A FEW DIFFERENT VARIETIES OF RESTAURANTS HERE THAT ALL LOOK ALMOST OUT OF PLACE DUE TO A BIG CITY APPEARANCE.
AT THE GAME YOU HAVE A REDUCED CHANCE OF GETTING A FOUL BALL, NETTING IS UP FROM THE FAR ENDS OF THE DUGOUTS, IT DOES GIVE A MORE RELAXED FEEL KNOWING YOU ARE SAFE FROM A LINE DRIVE, I
JUST FIND THE NET DISTRACTING.
SO, IF YOU PLAN ON WATCHING THE GAME FROM THE ROOF OF THE BUILDING BEHIND THE MONSTER, OR IN ONE OF THE SPACIOUS SEATS SURROUNDING THE FIELD, GREENVILLE IS A PLACE WHICH IS FUN FOR A GAME, AND MAYBE EVEN
MORE FUN FOR AFTER. IT HOPEFULLY WILL BE LESS CROWDED THAN THE GAME.
THE LINE UPS
AUGUSTA GREENJACKETS MANAGER :::
15 Andy Skeels
GREENVILLE DRIVE MANAGER :::
19 Kevin Boles
AUGUSTA GREENJACKETS
2 Shane Jordan lf
21 Nick Noonan 2b
19 Garrett Baker dh
29 Thomas Neal 1b
34 Francisco Peguero rf
32 Andrew Davis 3b
35 Jackson Williams c
23 Charlie Culberson ss
22 James Simmons cf
20 Oliver Odle p / LP
GREENVILLE DRIVE
2 Ryan Kalish cf
12 Yamiaco Navarro 2b
20 Mike Jones 1b
34 Jered Stanley rf
23 Luis Exposito c
11 David Mailman lf
3 Oscar Tejeda ss
16 Manny Arambarris 3b
15 David Marks dh
35 Terumasa Matsuo p / WP
25 Ryne Miller S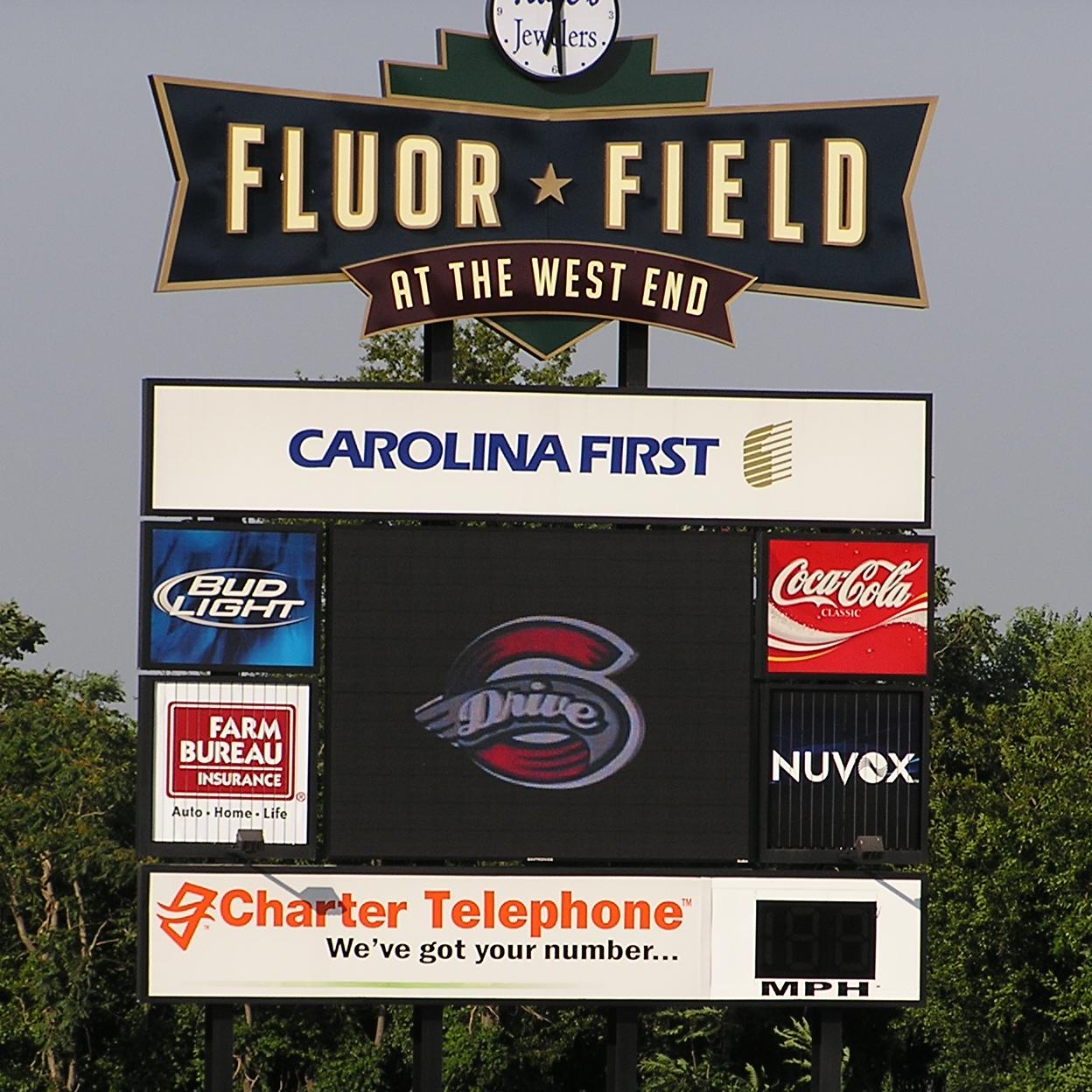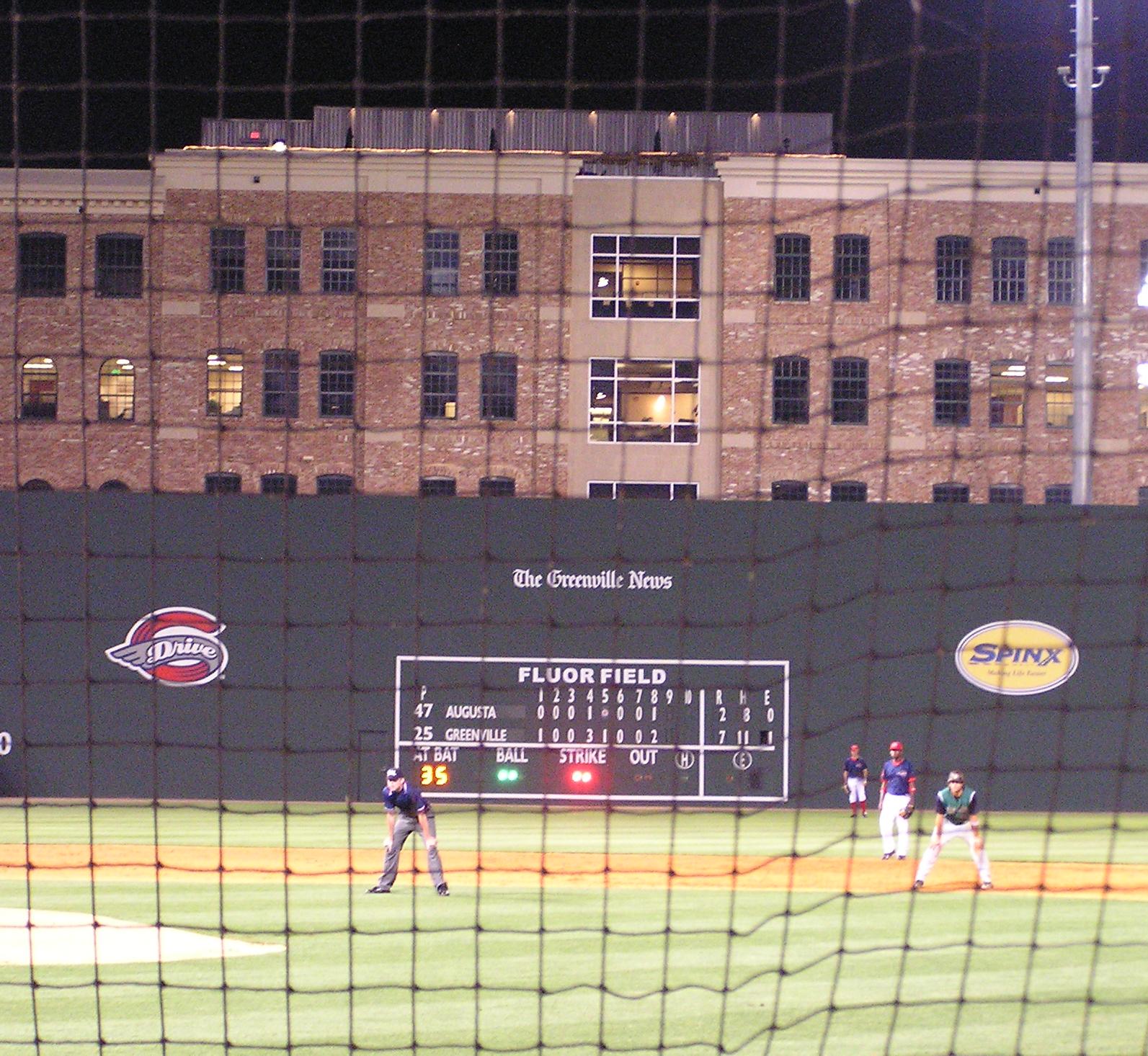 AUGUSTA 000 100 011 3 8 0
GREENVILLE 100 310 02x 7 11 1
TIME ::: 2:42
ATTENDANCE ::: 5,825
WEATHER ::: 92 CLEAR HOT
SEND ME AN E-MAIL
LINKS
The Official site of the Greenville Drive
The Official web site for the city of Greenville
Greenville weather from WEATHER.com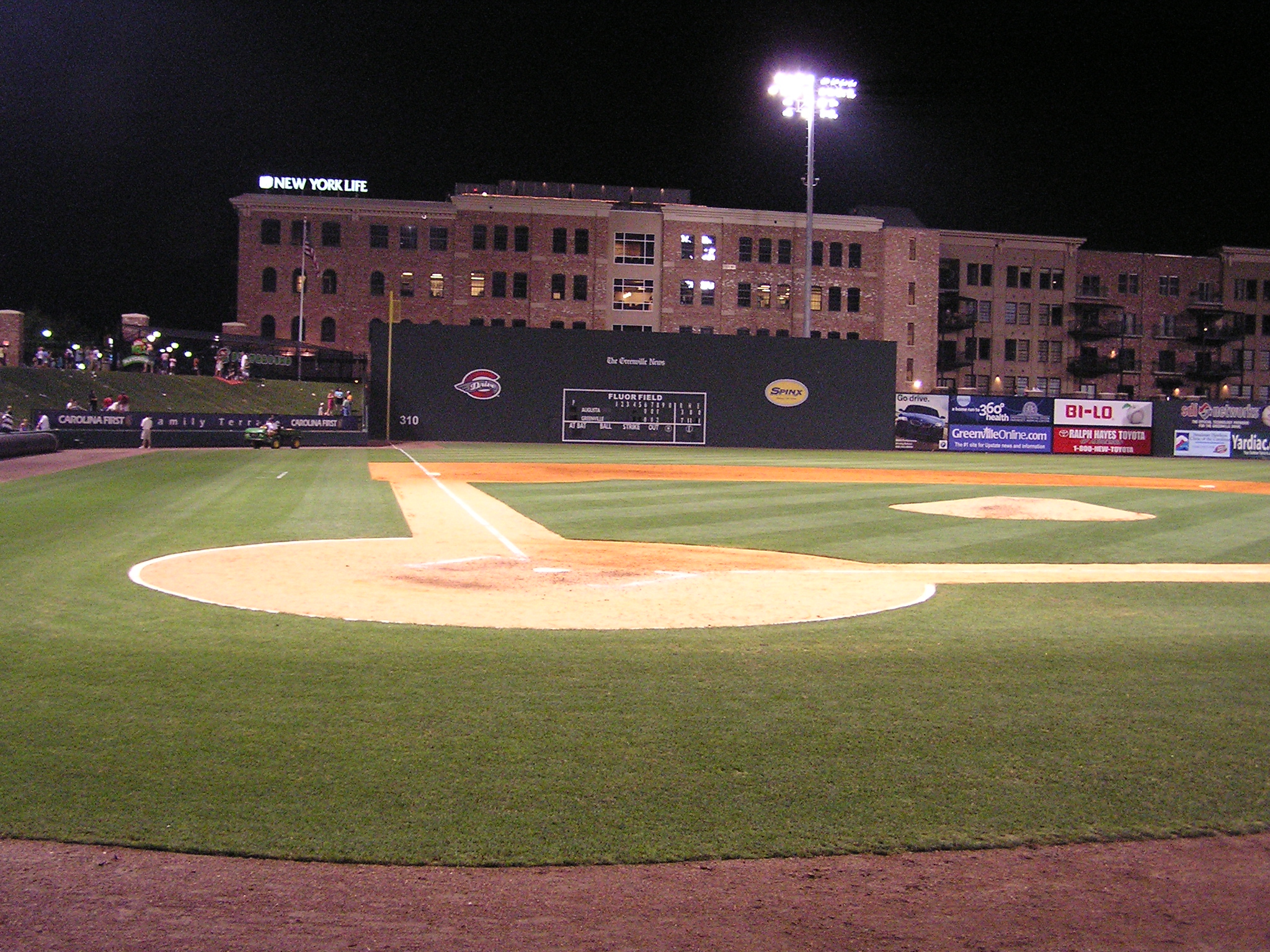 © 2000-2012 UNCLE BOB'S BALLPARKS
I AM IN NO WAY AFFILIATED WITH ANY OF THE TEAMS ON THIS PAGE ... THIS PAGE IS MEANT FOR INFORMATION PURPOSES ONLY.